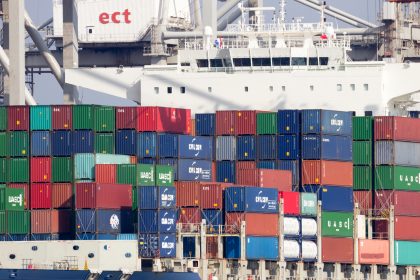 Slide in container freight rates may be beginning to level out
Freight rates on the major east-west container trades continued to slide this week – although the precipitous fall during previous weeks has finally begun to flatten out.
According to this week's Shanghai Containerised Freight Index (SCFI), the freight rate from China to North Europe has dipped below the $700 per teu mark, down some 4.2% week on week to today's $684 per teu.
Rate levels on the China-Mediterranean leg also declined, by ...
The post
Read more...
---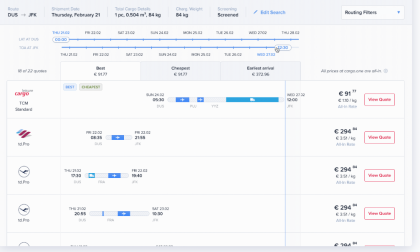 With 150 forwarders onboard, booking platform cargo.one now attracts airlines
Cargo.one, the rate and booking platform for air freight, is gaining traction with airlines.
Finnair joined last week, and two more airlines are in the process of coming on board. 
More than 150 forwarders have already signed up to use the site, which has so far been dominated by Lufthansa Group airlines. 
The platform is unique in that it not only shows carrier rates, but also has capacity data that allows forwarders ...
The post
Read more...
---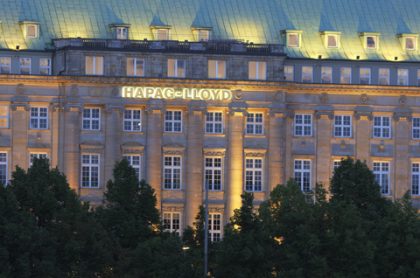 More profitable second half helped Hapag-Lloyd stay in the black
Hapag-Lloyd's net profit came in at $54m last year after the carrier recovered well from a loss-making first six months, which in June obliged it to issue a profit warning.
Chief executive Rolf Habben Jansen said the transport group was "satisfied with the financial results".
In terms of its 3.8% ROIC (return on invested capital), the Hamburg-based liner trumped its bigger peers, CMA CGM and Maersk, in 2018. They reported disappointing ROICs ...
The post
Read more...
---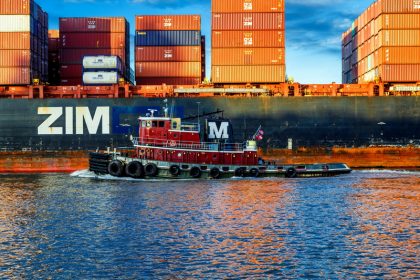 Low freight rates and high bunker costs see Zim sail into the red
Israeli container shipping line Zim yesterday posted a net loss for 2018 of $119.9m, despite a 9.2% increase in revenue to $3.2bn, a four-year high.
Zim said depressed freight rates in the first half and high bunker costs were the primary causes, while a second-half rally in rates was not enough to keep the line out of the red.
In 2017, the company recorded a net profit of $11.4m, on revenue of ...
The post
Read more...
---
Global economic headwinds blow a hole in PSA profits
PSA International recorded a bounce in both revenues and volumes last year – but not enough to prevent a post-tax profit drop.
The port operator handled 81m teu over the 12-month period, up just shy of 10% on 2017, with its Singapore terminals responsible for more than a third (36m teu, up 8.9%).
This in turn generated some $4bn in revenue (up 3%), but post-tax net profit fell 2.3% from $1.23bn to ...
The post
Read more...
---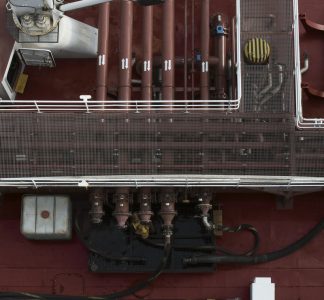 Uncertainty remains over who will pay for compliance with IMO 2020
Carriers and shippers remain in dispute over who will pay for compliance with the pending sulphur fuel cap.
And they have further concerns over unified global enforcement.
At the European Shippers' Council Maritime Day 2019, Nick Lurkin, of the Royal Association of Netherlands' Shipowners (KVNR), said carrier customers needed to accept the cap.
"With the IMO regulations there is no delay, even if there are still some that think it will be delayed ...
The post
Read more...
---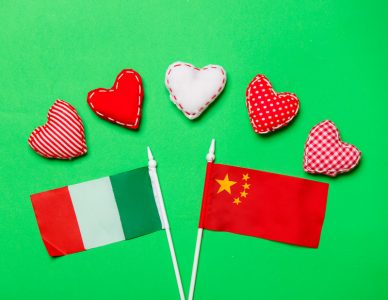 China's Xi visits Italy with belt and road deal as prize
Could Italy mark the turning point in China's belt and road policy? This week saw Xi Jingping in Rome to begin talks with his opposite number in Italy, Giuseppe Conte. Expectations are that tomorrow will see the two leaders sign a memorandum of understanding, which AP News suggests could see the European nation become the first "major democracy" to join the belt and road initiative. The MoU comes amid mounting ...
The post
Read more...
---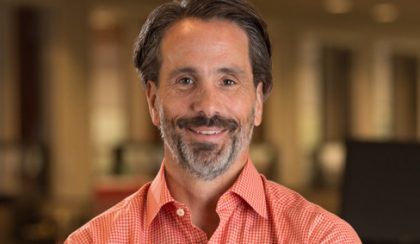 CH Robinson CFO Andrew Clarke to step down
CH Robinson has announced that chief financial officer Andrew Clarke will be stepping down at the end of the month.
Mr Clarke began his logistics career at the turn of the century as chief financial officer for Forward Air, having worked previously in the banking sector.
Six years later he was appointed chief executive of Panther Expedited services, before again moving in 2010, this time to Blount International as a board manager.
Chief ...
The post
Read more...
---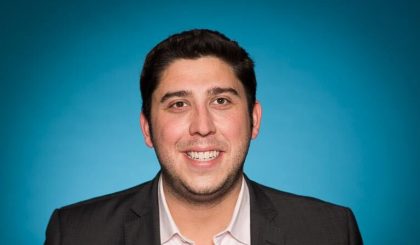 American Airlines Cargo appoints Tim Isik director of cargo sales for EMEA
American Airlines Cargo has appointed Tim Isik as director of cargo sales for Europe, Middle East and Africa, replacing Tristan Koch.
Mr Isik steps over from the passenger division, where he was responsible for American's sales business across the UK, Ireland and Iceland. He has also worked across its corporate sales division.
Vice president of sales Roger Samways praised Mr Isik's "hard work and passion" for aviation, noting he'd had a huge impact ...
The post
Read more...
---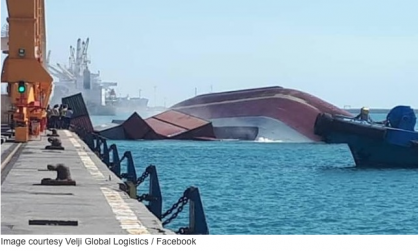 Container feeder vessel capsizes at Bandar Abbas
And yet another ship has gone down, possibly with up to three crew members injured. This time it is at a port, however, Bandar Abbas. The vessel had 153 containers on board, but it is not yet clear what caused the ship to capsize and then sink. Maritime Executive has the photos and video here. It appears to be a UAE-owned vessel named SL Star. 
The post
Read more...
---